Cooperating with Windoze XPee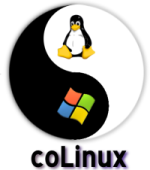 Its Friday evening .. I'm one of the few people left on this floor .Have not decided what to do with the weekend .. just chilling out .. Had a nice week , doing some perl and playing with some
virtual machines
. I may go to
"easy rider"
but the music sucks before 10:00 . So i'll stay back and so some more stuff with linux. The
XP allergy
has reached maximum.
I t has been about a month since i've been using Windose XP and i had to get myself some Linux :) SO here i am typing away on
Cooperative
linux
.. Running over
Windows XP !!
:) And guess what i'm listening too!!!
U2 !! ha!
there's nothing else on this hard disk .. borrowed some u2 albums(
the best i could get :(
) from the guy in the next cubicle .. .. nothing much .. good bye to August ..
..oh!! and i'm using
Google talk
from now on
(actually i'm thinking of writing a small perl client for Google talk .. any suggestions what i should call it ? ;)
) Its based on the XMPP protocol and by far the best IM i've come across .. (
i dont care for F****ng avatars and other paraphanalia
)